Baby Bites Nipple While Breastfeeding? Here's What To Do
Recently a mum expressed to one of our paediatricians, Dr Tengku that she is worried about continuing to breastfeed her 5-month-old baby once he has his first tooth. ? To the extent that she planned to stop breastfeeding entirely! ?
At that moment I realize how important this issue is, that one can even have the intention to stop breastfeeding even before the problem actually happens. ?
According to Dr Tengku, she has personally experienced this before with her third son who was a 'biter'. ? Most probably he was unhappy that her milk supply was down and was trying to get another milk ejection. This was when Dr Tengku was preparing for my postgraduate exam which caused him to bite after a few minutes of a nursing session. That was really an unforgettable experience. ?
How to stop the baby from biting the nipple while breastfeeding?
If you are also one of those who worry about your baby biting when breastfeeding, here are some facts & tips to share:
‼️

If a baby is nursing and latching PROPERLY, by right you should NOT feel the baby's teeth. It is actually impossible for a baby to nurse and bite at the same time as the tongue covers the bottom teeth/gum when the baby is nursing.

▶️

▶️

Look and tackle other reasons that may cause him to bite such as low milk supply, teething, boredom or seeking attention.

?

 Some babies never bite. (Such a blessing for those mothers!) 

?

 Biting can actually be a BEHAVIOUR when they are TEETHING which usually happens at the beginning of a nursing session. Try to tackle this issue before nursing-such as offering a teething toy or a cold cloth to bite on.

?

FOCUS on your baby when breastfeeding. Try not to multitask like scrolling through your phone, reading or watching tv. Some babies bite nipple when breastfeeding to get attention. You will also be more aware when your baby is about to bite.

⚠️

STOP the breastfeeding session once your baby bites. DO NOT pull him away. Instead, use your little finger and insert at the corner of his mouth between his gums.
Alternatively, you can bring your baby towards you, very close to your breast. This makes him a little hard to breathe, then he will automatically let go. This will indirectly teach him that he is not supposed to bite when breastfeeding.

?

When your baby bites, try NOT to scream or yell (I know it's hard!). Some babies may find it funny and will bite again. Some may go on a nursing strike if they feel scared. A nursing strike is the period of time when a baby who has been nursing well suddenly refuses to breastfeed.

?

 Never underestimate the power of talking to your baby. For example, after your baby bites, you can say 'Please don't bite mummy. I'm in pain. Do you still want me to breastfeed you?'. And whenever he doesn't bite, praise and kiss him. 'You're such a good baby today'.

‼️

Baby biting while nursing is usually a TEMPORARY issue that only lasts for a few days to a few weeks. Many mothers have gotten through this stage and continue to breastfeed for months and even years afterwards. So don't give up!

?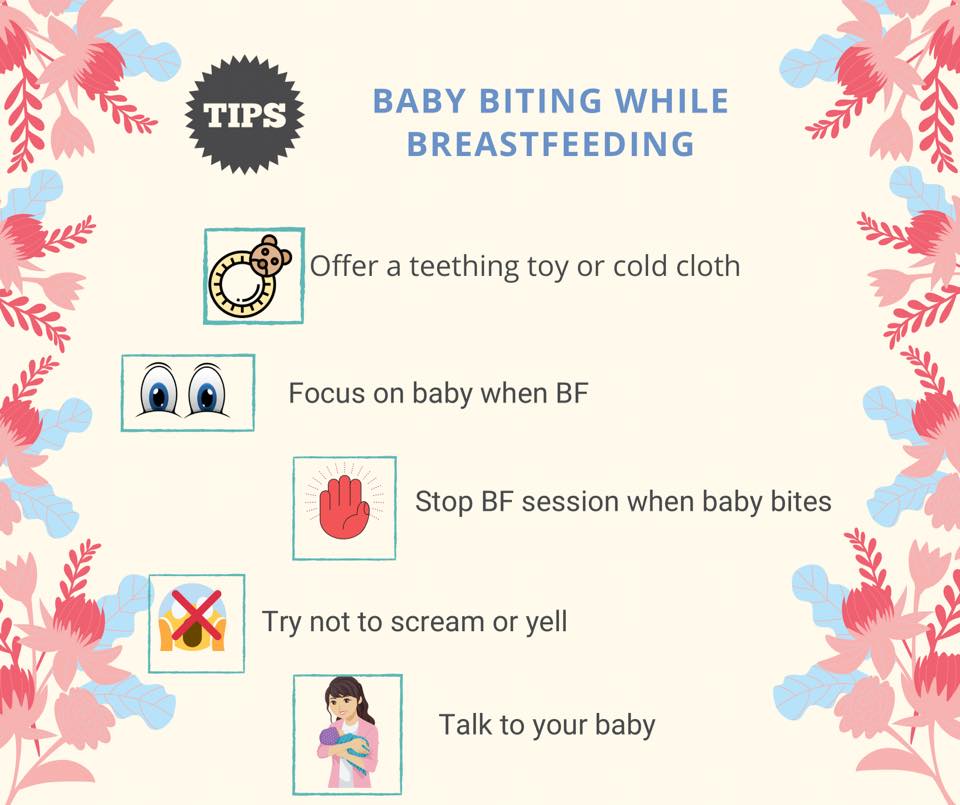 Dr Tengku Putri Zainab
Dr Tengku is our consultant paediatrician in our centre. Our child specialist has several areas of interest include infant care, children's development, support for parents with children affected by thalassaemia and breastfeeding advice. So, if you're looking for a qualified paediatrician in Petaling Jaya, pay a visit to our centre today!
Operating Hours:
Mon – Tue   9am – 5.30pm
Wed to Thur   9am – 9pm
Fri – Sat   9am – 5.30pm
Address
Sunway Specialist Centre Damansara
Lot B-G-1, B-G-2, B-G-3, Sunway Nexis Retails, Jalan PJU 5/1, Kota Damansara, 47810 Petaling Jaya, Selangor